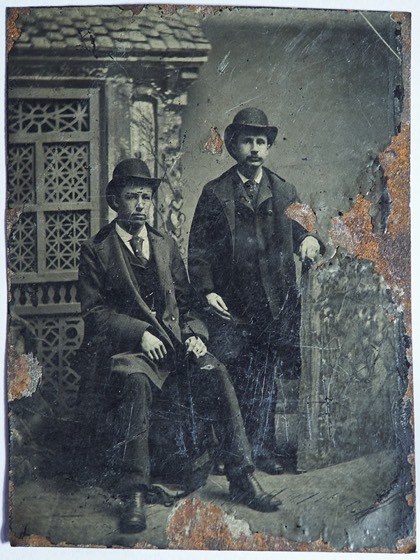 A small forest runs alongside the Depuy Canal through High Falls in New York. Over the Christmas of 2017 it presented a bleak mid-winter scene, a landscape shot through with man-made structures. Some of these were impressive, others simply curious.
All of these human endeavours were proving to be temporary, some more intentionally than others. From the cutting of the canal through the rolling hills to the containers of sand taped up for target practice, some measure of violence pervaded the place.
I was reflecting on the differences in forests in Ireland when I stumbled on the remains of a rough hewn stone shed. It was interesting to see the pattern of drystone building in this structure, reminding me of sheds back home in Leitrim. It stood in stark contrast to the formally engineered once-proud canal.
I recalled an item the previous summer I had found at a local market. I had purchased a small tintype of two workers from the crew who had built the canal, arrayed in their Sunday finest for the photographer's lens. Both of them were most likely, as the stallholder observed, 'loyal sons of the shamrock'.